Thank you guys!
@Grant
Yeah, do it! Would be extremely cool, to have some photos in addition to the ones in the rule-books!
something new here...
BLACKSHEEP II
"The photomontage of Dead Jesters flyer Heather "Blacksheep" O'Brian was featured in a special regional scoop of AAW about pirates und privateers operating out of tortuga.
The pictures of her and her fighter called "Leprechaun" were shot shortly after she archieved the status of an ace, scoring her third and fourth kill in just one sorty againt a pirate gang. The last one after a spectacular dogfight, while her wingleader and wing commander Jack Bonnet had to return to their zeppelin.
The Dead Jesters received some attention after starting a small campaign against the Crimson Fists-Group.
Roumurs said, the Jesters were paid by a Dixie-Businessman, wich factories were hit several times by the Fists-group. During the Fists last raid, they eventually killed the owners son, who was visiting one of this factories, which may be the last drop for the father and made him hire the Jesters.
It is as well said, that the Fists were hired before, also by a businessman, owner of a rivaling Company.
After the Dead Jester had finnished the Crimson Fists in a last, devastating attack on their base, they began to like such business and kind of settled over from fulltime pirates to mercenary-business."
So this is my latest output (together with Hangman II), as written above, they are the lead pilots of my most-used squad.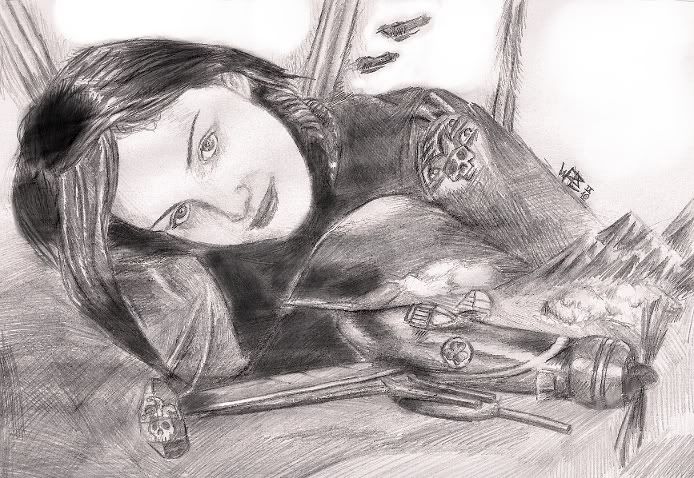 HANGMAN II
"The photomontage of former Dead Jesters founder Jack "Hangman" Bonnet was featured in the Air Action Weekly-articel, about new rising businesses. He now is the owner of a very small Courier-Company, just consisting two planes, that most times fly alongside.
He got some publicity after an outstanding blockade-run through not less than three pirate-gangs, longing for his freight. During this fly he scored two unconfirmed kills, both without turning his plane for a second attack on his victims. Just the one was enough."
Again this features my "main-pilot" but some time after the normal settig for him, as leader of the dead jesters. Now they are extinct, except Hangman and Blacksheep. Sheep left the Jesters short before the events, leading to their end and later joined Jacks new busines.
The "Hughes Aviation Bloodhawk" is called "Joker" (as a hook to both, his old squads name and his old aircraft, the "Queen of Spades").