Ok now we swing into the purely SciFi/Fantasy realms. . .
On December 17, 1958, Wendell F. Moore made the first tethered jet pack flight, well after the timeline of our CS Universe, however. . .
Early in the 30s pulp magazine stories we began to see Rocket wearing heros flying across the country to defeat the minions of mad scientists and evil nations. In the 40s & 50s we got to see our "Rocket Suited" hereos, The Rocket Men and their clone, Commander Cody, flying across the silver screen in serial after serial. . . The Rocket Pack and later Jet Pack had wormed it's way into the Americana mythos.
To this very day rumors persist that Howard Hughes designed a top secret Rocket Pack system for the US Army. Suposedly it was intended at first as a pilot "Escape System" and them later as an "Airborne Infantry Infiltration System". Whether or not it is true we likely won't ever know, but that legend formed the basis of comic book creater Dave Stevens' (July 29, 1955 – March 11, 2008) for the adventures of his "Aerial Ace" Cliff Secord, AKA The Rocketeer who not only starred in the comic book but also in a 1991 feature film of the same name by Joe Johnston and Walt Disney Pictures.
The Rocketeer story works out just fine for us. 1938 saw Ace test pilot Cliff Secord, though missadventure involving the mob, comes into possession of the Hughes prototype Rocket Pack which he kept out of Nazi hands and used to foil their foul plot! With the blessings, and aid, of Hughes, Secord went on to continue to fight villiany and foil the Nazi's right up to just before WWII. (The story stops there as the author Stevens died before it could progress further).
The Rocketeer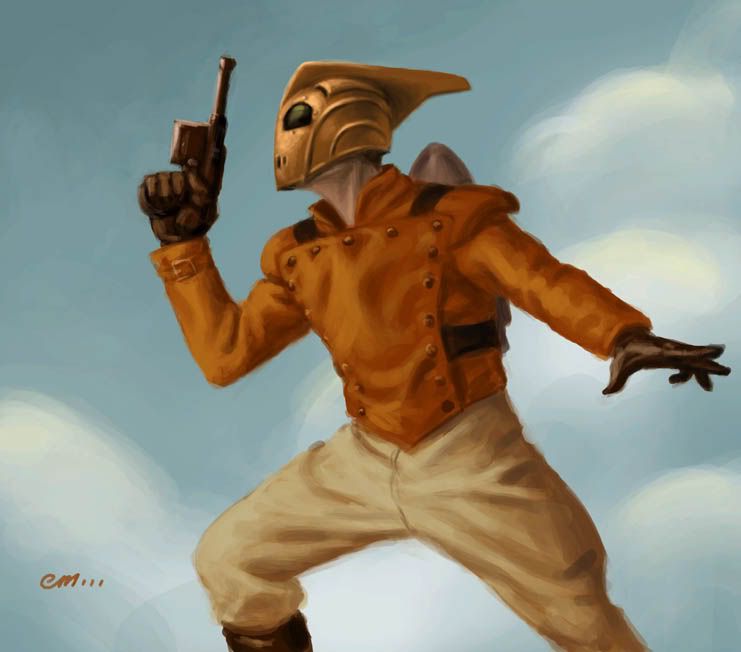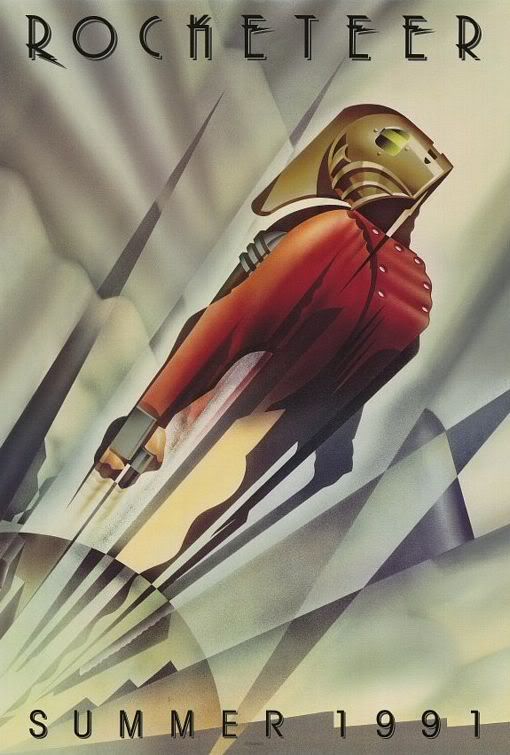 Secord controlled his flight with a special finned helmet which allowed him to steer and control thrust (On or off, no medium setting!). I would have to giver him a top speed of roughly 180MPH but with a limited duration. While he could bear personal firearms the act of aiming would interefere with his aerodynamics as he used his arms to assist in flight control. Even the act of aiming a pistol would make things difficult while under thrust. Perhaps if the pilot were to cut thrust he could coast to an apex and shoot in that moment he was suspended before gravity yarded him back down!
Anyway, I just love the genre and feel that it would fit right in with Crimson Skies, particularly if the Nation of Hollywood were to suddenly spring it on the world at large! The Movie is filled with fast air planes, barnstorming, stunt flying, gun fights, a pretty girl and even a zeppelin! What more could a fella want?
Edit Notes:
The image links were failing so I saved them to my photobucket account and edited this post to repost them.